An outstanding success!  We filled the Liberty Theater and actually had to turn people away — a measure of public concern.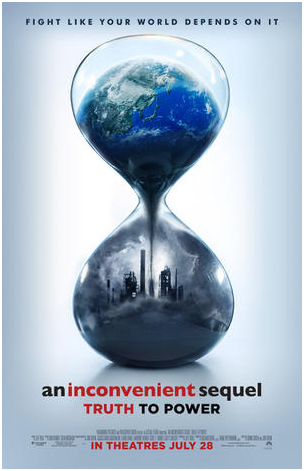 AN INCONVENIENT SEQUEL: Truth to Power
The JUST RELEASED Al Gore documentary
Received two standing ovations at the 2017 Sundance Film Festival.
Will be shown Thursday August 10th in Pagosa at the Liberty Theater at 6:00pm
Tickets by donation available at the Wilderness Journey Office near City Market or at the door.
Brought to you by –
Southwest Organization for Sustainability
Growing Spaces, Inc
Wilderness Journeys Pagosa, Inc.
Pagosa Rafting Outfitters, Inc
Dobson Solar, Inc
John and Karen Goodwin
Johnny and Terry Pickett
Geothermal Greenhouse Partnership
Including:
Al Gore
George W. Bush
John Kerry
Angela Merkel
Barack Obama
Vladimir Putin
Donald Trump
EARTH WEEK
SOS coordinates local organizations' activities to celebrate the earth and take steps to reduce our carbon footprint.  Click here to view/download the schedule of activities for 2015.
MOVIE/SPEAKER NIGHTS
SOS sponsors speakers and movies on environmental and sustainable issues.
FESTIVAL OF TREES ENTRY
In 2013, SOS entered the Festival of Trees for the second time, contributing a tree made of recycled materials. The tree was constructed using 100 recycled green plastic bottles collected from the local transfer station and lit with LED lights that have 90% energy savings.
RECYCLE COLLECTION 
Batteries, CFL's, and ink cartridges are collected at SOS community events and the Farmers Market and recycled or disposed in an environmentally safe way. Click here to learn more.
ADVOCACY
SOS works behind the scene responding to sustainability issues that arise in the region. Click here to learn more.